You can purchase our Premium Products at:
On the Farm
You can buy our cuts of grass-fed beef and lamb, norganic pork, free range chickens, or farm fresh eggs at our farm. Usually, we're here but contact us to be certain that we're available. As a rule we're available Monday through Saturday during daylight hours and Sunday by appointment only, however, it's always best to call ahead.
Farmers' Markets
NOTE: At the farmers' markets, we sell the same delicious cuts of our premium beef, lamb, Norganic pork and Free Range chickens as well as our free range chicken eggs as we do on the farm.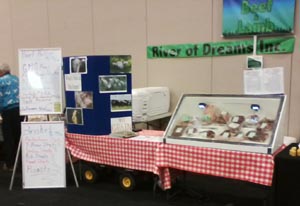 New Leaf Winter Farmers' Market in Green Bay
We will be selling our products at the Green Bay New Leaf Winter Farmers Market which is held at the KI Center and runs from 8 AM till 12PM on: December 12, 2015; December 19, 2015: January 16, 2016; January 23, 2016; February 6, 2016; and February 13, 2016.
Sheboygan Winter Farmers Market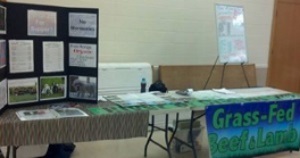 Winter Farmers' Market in Sheboygan
You can also purchase from us at the Sheboygan Winter Farmers Marker held 1st and 3rd Saturday every month from 9 AM till 1 PM starting November 1, 2015 until May 31, 2016.
Growing Power Inc. Winter Farmers' Market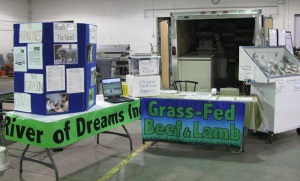 Growing Power Winter Farmers' Market in Butler
We will be at the Growing Power Inc. Winter Farmers Market at 13111 W. Silver Spring Rd. Butler WI which runs from November 1, 2015 until April 30, 2016. The market runs from 8 AM until 12 PM every Saturday.
Scheduled Drop Off Points:
Stormonth School in Fox Point
We are planning on dropping off orders in Fox Point at the Stormonth School at 7300 N. Lombardy Avenue in Fox Point from 1:00 PM until 2:30 PM on the 3rd Saturday of the month. We plan on dropping off our Premium Products on: January, 16, 2016; February 20, 2016; March 19, 2016; and April 16, 2016. Check out our Cuts Available page under the Products link in the menu on the left side of our website and email Dennis with your order and the approximate time that you will be picking up your order. Please include a phone number in case we need to call you. Thank you!
Delivery
For details of delivery of our premium meat; grass-fed beef or lamb, norganic pork or turkey, or our free range chickens or eggs please contact us for details.