Our Katahdin Grass-Fed Lamb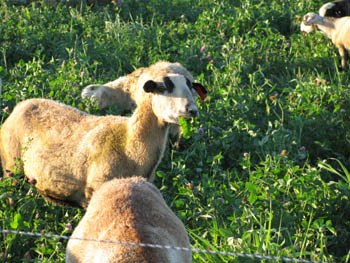 Our lambs are raised on pasture using Management Intensive Grazing (MIG) practices. Our newborn lambs enjoy their mothers' milk, while the sheep enjoy fresh green pastures. To meet the mineral needs of our flock we feed organic salt and kelp. We also deworm our sheep (for insurance purposes only) using a natural dewormer, that is, garlic, mixed with liquid molasses (the garlic acts as the deworming agent, while the molasses makes it more palatable). By using the MIG practices we can eliminate the use of chemicals for parasite patrol. Our sheep do not graze the same pastured area for a minimum of three months, which maximizes their natural resistance to parasites. We chose this Katahdin breed for this very reason, and believe it to be the best choice for our partners and consumers.
Availability
Our lamb is available either whole, or in cuts, both at the farm, and any of our farmers' markets. As always, please call ahead for current availability.